For the media to use pictures and film.
Contact: Marczak Film
emil@marczakfilm.se
2016 -05-05
Med anledning av Länsstyrelsens beslut om att inte delge Ocean X Team AB beslut om "ensamrätt till bärgning" gällande ubåten "SOM".
Orsaken till att Ocean X Team ansökt om ensamrätt till bärgning ligger i att skydda företagets intressen i fyndet. Målet har hela tiden varit att ubåten och dess besättning skall bärgas för att sedan överlämnas i Ryska myndigheters försorg. Ocean X Team har inte heller på något sätt haft för avsikt att begära pengar från den Ryska staten. Finansiering av bärgningen kommer att ske med hjälp av Ryska privata intressen och skall redan vara säkrad innan någon eventuell bärgning påbörjas.
Ocean X Team AB har engagerat det amerikanskbaserade bärgningsföretaget "Resolve Marine" och "Nicholas Sloane" (bärgningsledare för Costa Concordia) som bärgningsledare. De kommer att ta fram de slutgiltiga bärgningsplanerna och borga för att lyftet av ubåten sker på högsta professionella nivå.
Ocean X Team AB tillsammans med samarbetspartnern Ixplorer sökte kontakt med Ryska myndigheter redan några dagar efter fyndet av ubåten, och har gjort så vid upprepade tillfällen därefter utan att erhålla något svar. Ocean X Team har även anmält fyndet till berörda svenska myndigheter och enträget utfört de åtgärder som krävs enligt rådande praxis.
I nuläget ges uttalanden från ryskt håll att ubåten skall bärgas för att ställas upp på ett museum i Ryssland (vilket alla berörda parter överens om) men att det måste ske i rysk regi. Istället för att välkomna ett samarbete med Ocean X Team och Ixplorer, som vi hela tiden eftersökt med ryska myndigheter, verkar man nu från rysk sida istället vilja ta strid om rätten att bärga ubåten. Ett Ryskt statligt uppdrag är värt mer pengar för den som får uppdraget än om bärgningen finansieras av privata intressen. Vi antar också att det rent politisk är värt väldigt mycket att få genomföra en bärgning av ett sådant historiskt intressant objekt som ubåten "SOM".
Argumenten som Ocean X Team hänvisat till för att säkerställa sin position som upphittare och "ägare" av ubåten är i kort enligt följande;
Direkt efter fyndet meddelades det ryska försvarsministeriet och ambassaden i Stockholm om detta. Enligt svensk lag kan den eventuelle ägaren av ett sjöfynd, eller hittegods, meddelas direkt, och har denna inte hävdat sin äganderätt inom tre månader tillfaller fyndet upphittaren.
Lagen om sjöfynd och hittegods talar om övergivet gods och att en upphittare av sådant gods kan hävda sin äganderätt över det. I detta fall har ubåten "SOM" legat orörd på samma plats i 100 år. Varken det forna Ryska Imperiet (Tsarryssland), Sovjetunionen eller den Ryska Federationen har under dessa 100 år hävdat "sin" rätt till ubåten på något sätt. Positionen (200 meter när) har varit känd i ryska arkiv sedan 1916 men ändå har inga tidigare försök att lokalisera eller bärga ubåten gjorts. Om inte 100 år kan anses som övergivit, när inträder då definitionen för "övergivet"?
Den Ryska Federationen har ansvar för den tidigare Sovjetstaten men inte det Ryska Imperiet. Det är en mycket komplex fråga men finns beslutat om i Duman (December 24, 2004 № 5871p-P12).
Likalydandes argument har nämnts i yttrandet till Länsstyrelsen angående Ocean X Team: s ansökan om "ensamrätt till bärgning".
Om Ocean X Team i någon instans skulle erkännas bärgningsrätt eller äganderätt av ubåten kommer den att överlämnas till de ryska myndigheterna när bärgningen är klar.
Vi önskar fortfarande att Ryska myndigheter skall erkänna Ocean X Team och Ixplorer som ledare av själva bärgningsprocessen, och samarbeta över gränserna istället för att som i nuläget motarbeta och utestänga.
Dokumentation i ärendet kan erhållas på begäran via mail.
P R E S S   R E L E A S E      2015-07-27
A Russian mini-submarine has been discovered at Swedish territorial waters not far from the Swedish coast. The submarine is about 20 meters long and three and a half meters wide. It is unclear how old the submarine is and how long it has been laying at the sea floor, but the Cyrillic letters on the hull indicates that it is Russian.
The discovery was made previous week by the Ocean X Team and Ixplorer.
– The submarine is completely intact, have no visible damage to the hull and the hatches are closed. Therefore do we fear that the crew have not been able to save them self when the sub went down, says Stefan Hogeborn, divers in Ocean X Team.
The submarine was found during an expedition where a camera equipped, unmanned mini-submarine of the model ROV, Remote Operated Vehicle, was sent down.
Swedish Armed Forces was informed earlier today.
Ocean X Team is now preparing for a new expedition, divers will be sent down to film and to investigate the submarine wreck more closely.
Ocean X Team has previously made several discoveries such as shipwrecks and historical objects, including bottles of champagne from 1916 and the circular of the Baltic Sea Phenomenon etc.
See moving pictures of the discovery site here, Expressen: http://www.expressen.se/nyheter/frammande-ubat-hittad-i-svenskt-vatten/
8/9/2011, PRESS RELEASE
OCEAN X TEAM, FINDER OF THE MYSTERIOUS 197 FEET OBJECT IN THE BALTIC SEA PREPARES FOR OPERATION BALTIC DISCOVERY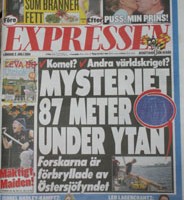 Treasure hunters plan to confirm their find with scientific answers
STOCKHOLM, Sweden – 8/9/2011- On June 19th the Swedish-based diving company Ocean X Team discovered something they've never quite seen before. They were exploring in the Baltic Sea between Sweden and Finland looking for sunken treasures when a very unusual image suddenly appeared on the sonar.  A 197 feet diameter cylinder shaped object was discovered at the depth of approximately 275 feet.  Treasure hunters, Peter Lindberg, Dennis Åsberg are in the midst of planning for their next excursion; to find out what's there, and how it ended up in the Baltic Sea. Ocean X Team's Operation Baltic Discovery will unveil what people around the world are waiting to find out- What's really there?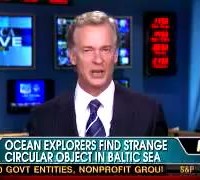 "We need to know what we've found. Media has been speculating about everything from UFO's to Russian space ships. What we know at this point is its size and shape and we also know, based upon the sonar image, that there is a ridged tail going from or to the cylinder shaped anomaly of about 3 800 feet throughout the bottom of the sea, "said Peter Lindberg, one of the professionals at Ocean X Team.
"We cannot tell when it was placed in the Baltic Sea, if the object was dumped into the sea or if it's a natural phenomenon," continues Peter Lindberg.
"We are determined to successfully complete our mission of finding out what's at the bottom of the Baltic Sea. Because of the sea depth, it is a risky operation that requires a lot of planning, strategy and financial resources," said Dennis Åsberg, one of the three professionals at Ocean X Team in Stockholm, Sweden.
About X Team
Ocean Explorer has been conducting various diving excursions in North Europe for over 20 years. Their main focus has been to search for hidden treasures such as antique high-end alcoholic beverages and historic artefacts. Some excursions include the salvaging of champagne bottles from the wreck "Jönköping" in 1997. The treasure hunters, Peter Lindberg, Dennis Åsberg have been in the maritime industry since 1995.
Press links
http://www.aftonbladet.se/nyheter/article15535968.ab
http://www.expressen.se/nyheter/trappa-senaste-fyndet-vid-mystiska-cirkeln/
http://www.dr.dk/Nyheder/Udland/2012/06/17/110218.htm
http://www.aftonbladet.se/incoming/article15097668.ab
http://www.aftonbladet.se/nyheter/article15091224.ab
http://www.youtube.com/watch?v=P3ysCCXEwr4&feature=youtu.be
http://www.earthfiles.com/news.php?ID=1989&category=Environment
http://truthfall.com/baltic-anomaly-far-stranger-than-any-ufo-discovery/
http://www.aftonbladet.se/nyheter/article13263359.ab
https://www.youtube.com/watch?v=kEKEDJV1jMY&feature=player_embedded
http://sverigesradio.se/sida/artikel.aspx?programid=739&artikel=5168882
http://www.side3.no/article3425342.ece
http://www.youtube.com/watch?v=fumXelkOCHI&feature=youtu.be
http://www.youtube.com/watch?v=GIxBuYVR-Ik&feature=related
http://www.morgenpost.de/kinderpost/article107265624/Ein-Ufo-in-der-Ostsee.html
http://www.disclose.tv/news/The_plot_thickens_Balic_sea_anomaly_eventually_a_NAZI_UFO_prototype/85407#.T-dniM-AXnc.facebook
http://www.disclose.tv/action/viewvideo/107180/Baltic_Sea_UFOUSO_disables_all_electronic_equipment_june_21st_2012/
http://sverigesradio.se/sida/artikel.aspx?programid=94&artikel=5165975
http://www.dailymail.co.uk/sciencetech/article-2164912/UFO-the-Baltic-Sea-cuts-electrical-equipment-divers-200m.html?ito=feeds-newsxml
http://www.youtube.com/watch?v=B7NpKwZexDk&feature=share
http://sverigesradio.se/sida/artikel.aspx?programid=105&artikel=5166147&play=4004765&playtype=Ljudklipp
http://sverigesradio.se/sida/artikel.aspx?programid=3864&artikel=5165652&play=4004362&playtype=Ljudklipp
http://www.svd.se/nyheter/inrikes/det-ser-ut-som-ett-tefat_7299311.svd
http://www.youtube.com/watch?v=TYQzyadWk3o&feature=autoshare
http://www.dn.se/webbtv/nyheter/mystiskt-fynd-i-ostersjon/
http://www.foxnews.com/scitech/2012/05/29/truth-is-out-there-about-ufo-in-baltic-sea-swedish-scientists-say/?intcmp=features
http://norrteljetidning.se/nyheter/1.1668846-gata-pa-havsbotten-utreds
http://www.aftonbladet.se/nyheter/article14909892.ab
Press images