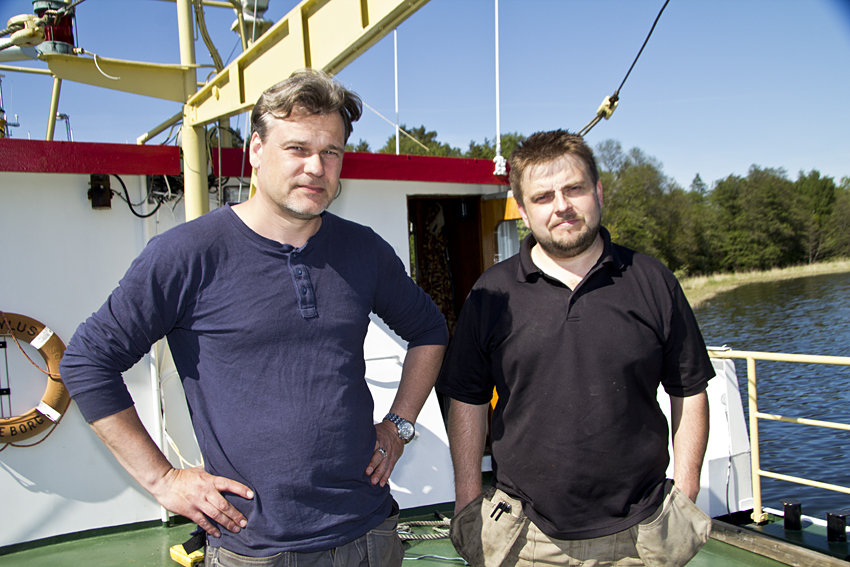 Bilder och rörligt material från det ubåtsvrak som hittats utanför Sveriges ostkust kommer att finnas tillgängligt på TT Nyhetsbyråns webbsida som betalbilder.  
bild.tt.se
Om ni inte är kund, mejla TT:s bildredaktion på 
picturedesk@tt.se
 eller ring
08-6922660
08-6922660
, så hjälper vi er med att få tillgång till materialet.
—
Stills and footage of the submarine wreak which was found outside the east coast of Sweden is available at the Swedish news agency TT News Agencys website bild.tt.se 
If you not are a client contact the picture department picturedesk@tt.se or

+46-86922660
+46-86922660
8/9/2011, PRESS RELEASE
OCEAN X TEAM, FINDER OF THE MYSTERIOUS 197 FEET OBJECT IN THE BALTIC SEA PREPARES FOR OPERATION BALTIC DISCOVERY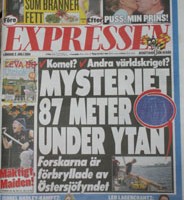 Treasure hunters plan to confirm their find with scientific answers
STOCKHOLM, Sweden – 8/9/2011- On June 19th the Swedish-based diving company Ocean X Team discovered something they've never quite seen before. They were exploring in the Baltic Sea between Sweden and Finland looking for sunken treasures when a very unusual image suddenly appeared on the sonar.  A 197 feet diameter cylinder shaped object was discovered at the depth of approximately 275 feet.  Treasure hunters, Peter Lindberg, Dennis Åsberg are in the midst of planning for their next excursion; to find out what's there, and how it ended up in the Baltic Sea. Ocean X Team's Operation Baltic Discovery will unveil what people around the world are waiting to find out- What's really there?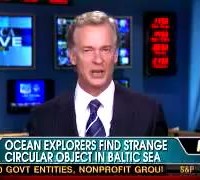 "We need to know what we've found. Media has been speculating about everything from UFO's to Russian space ships. What we know at this point is its size and shape and we also know, based upon the sonar image, that there is a ridged tail going from or to the cylinder shaped anomaly of about 3 800 feet throughout the bottom of the sea, "said Peter Lindberg, one of the professionals at Ocean X Team.
"We cannot tell when it was placed in the Baltic Sea, if the object was dumped into the sea or if it's a natural phenomenon," continues Peter Lindberg.
"We are determined to successfully complete our mission of finding out what's at the bottom of the Baltic Sea. Because of the sea depth, it is a risky operation that requires a lot of planning, strategy and financial resources," said Dennis Åsberg, one of the three professionals at Ocean X Team in Stockholm, Sweden.
About X Team
Ocean Explorer has been conducting various diving excursions in North Europe for over 20 years. Their main focus has been to search for hidden treasures such as antique high-end alcoholic beverages and historic artefacts. Some excursions include the salvaging of champagne bottles from the wreck "Jönköping" in 1997. The treasure hunters, Peter Lindberg, Dennis Åsberg have been in the maritime industry since 1995.
Press links
http://www.aftonbladet.se/nyheter/article15535968.ab
http://www.expressen.se/nyheter/trappa-senaste-fyndet-vid-mystiska-cirkeln/
http://www.dr.dk/Nyheder/Udland/2012/06/17/110218.htm
http://www.aftonbladet.se/incoming/article15097668.ab
http://www.aftonbladet.se/nyheter/article15091224.ab
http://www.youtube.com/watch?v=P3ysCCXEwr4&feature=youtu.be
http://www.earthfiles.com/news.php?ID=1989&category=Environment
http://truthfall.com/baltic-anomaly-far-stranger-than-any-ufo-discovery/
http://www.aftonbladet.se/nyheter/article13263359.ab
https://www.youtube.com/watch?v=kEKEDJV1jMY&feature=player_embedded
http://sverigesradio.se/sida/artikel.aspx?programid=739&artikel=5168882
http://www.side3.no/article3425342.ece
http://www.youtube.com/watch?v=fumXelkOCHI&feature=youtu.be
http://www.youtube.com/watch?v=GIxBuYVR-Ik&feature=related
http://www.morgenpost.de/kinderpost/article107265624/Ein-Ufo-in-der-Ostsee.html
http://www.disclose.tv/news/The_plot_thickens_Balic_sea_anomaly_eventually_a_NAZI_UFO_prototype/85407#.T-dniM-AXnc.facebook
http://www.disclose.tv/action/viewvideo/107180/Baltic_Sea_UFOUSO_disables_all_electronic_equipment_june_21st_2012/
http://sverigesradio.se/sida/artikel.aspx?programid=94&artikel=5165975
http://www.dailymail.co.uk/sciencetech/article-2164912/UFO-the-Baltic-Sea-cuts-electrical-equipment-divers-200m.html?ito=feeds-newsxml
http://www.youtube.com/watch?v=B7NpKwZexDk&feature=share
http://sverigesradio.se/sida/artikel.aspx?programid=105&artikel=5166147&play=4004765&playtype=Ljudklipp
http://sverigesradio.se/sida/artikel.aspx?programid=3864&artikel=5165652&play=4004362&playtype=Ljudklipp
http://www.svd.se/nyheter/inrikes/det-ser-ut-som-ett-tefat_7299311.svd
http://www.youtube.com/watch?v=TYQzyadWk3o&feature=autoshare
http://www.dn.se/webbtv/nyheter/mystiskt-fynd-i-ostersjon/
http://www.foxnews.com/scitech/2012/05/29/truth-is-out-there-about-ufo-in-baltic-sea-swedish-scientists-say/?intcmp=features
http://norrteljetidning.se/nyheter/1.1668846-gata-pa-havsbotten-utreds
http://www.aftonbladet.se/nyheter/article14909892.ab
Press images